System Security
Accessing Protected User Account Pages:
When you first attempt to view any "protected" web pages in a browser, an authentication dialog window will appear, asking that you enter your User Name and a password. An example screenshot appears below: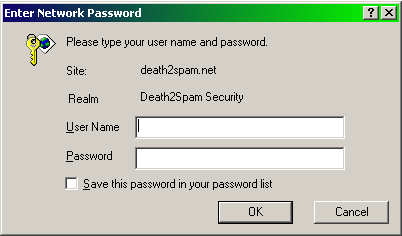 In the User Name field, enter your normal email address (e.g. "someone@abc.xyzzy.edu"). In the Password field, enter the password you usually use to retrieve email from your POP Mail Server. Then click the OK button.
At this point, assuming you've typed your password correctly (watch out for that CAPS-LOCK key!), you should be able to access the protected pages for your account. Because the D2S web-site uses browser-based authentication, there is no need to log off from your account pages. Simply close the browser screen when you're finished, or navigate to another URL.
Note that access can be denied if your POP hosting service is currently off the air, or is unreachable due to network congestion, etc. If this happens, unfortunately you will have to wait until your POP server is operational again, so that the D2S server can verify your userID and password.