Richard is a senior Software Engineer, with specialist expertise in the design and development of enterprise-level Internet Applications for email security and content filtering. In 2003 he founded Death2Spam.net, a Managed Service Provider headquartered in Seattle.
Richard has over 25 years experience in designing and developing software, most recently as a Technical Architect and CTO with international companies. His expertise spans technology R&D, systems analysis, security, technical architecture, OO design & development, QA, team mentoring and code hacking.
He recently returned to New Zealand, after having worked in Australia, Europe and the USA for 3 decades. During the past 10 years, Richard has been most frequently engaged in the development of multi-tier distributed applications, custom-designed high volume application servers, and Java middleware components. His client portfolio includes Oracle, IBM, Tandem, EDS, Ameritech, REI, Hitachi Data Systems, Motorola and KAZ Computer Systems.
Richard holds a BSc (Canterbury), with post-grad qualifications in Gestalt Psychology. His current research interest is in distributed machine-learning systems, with a focus on the utilization of Signal Detection Theory and Bayesian probability mathematics for e-document sorting, text classification and high-accuracy content discrimination technologies. He's also a musician, ultralight pilot, stained-glass craftsman, and a brewer of hand-made pale ales.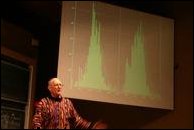 D2S Home
New Users
User Logon
Help Index
Contact Us